Click the banner image above to watch a video explaining everything about the Touch7 Swatch books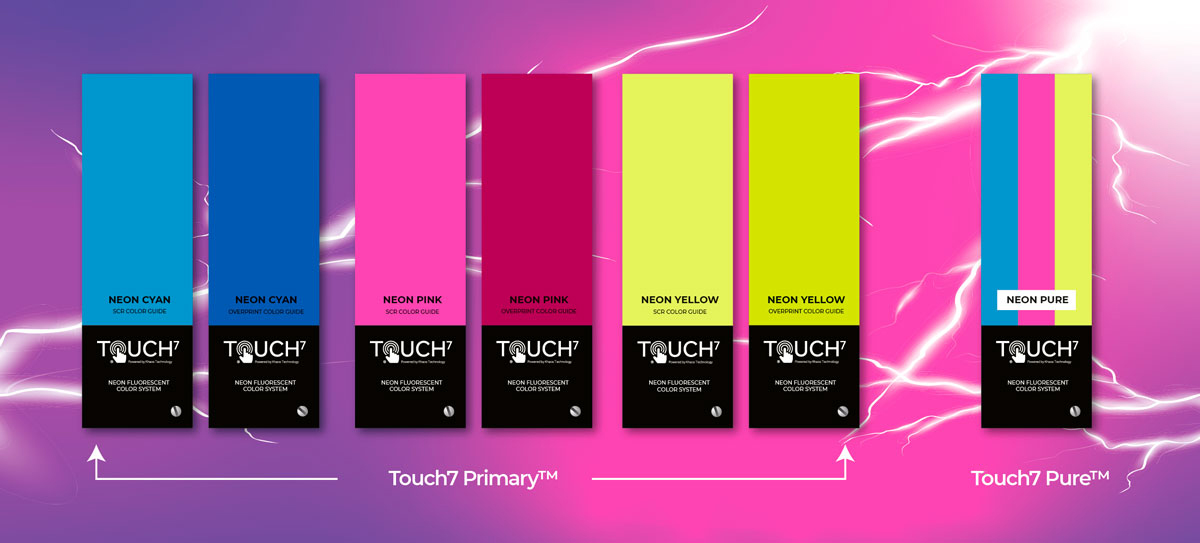 Suitable for both analogue and digital printing devices, the Touch7 Neon Color System™ is comprised of two separate swatch book systems:

Touch7 Primary™
Neon/fluorescent inks are printed in combination with the primary process inks (CMY plus Neon).

Touch7 Pure™
This swatch book uses only the neon/fluorescent inks – Neon Cyan, Neon Pink and Neon Yellow.

The Touch7 Neon Color System™ has three components – Swatch Books, Color Palettes and Plugins. Please note that not all devices use Neon Cyan! You only print the swatch books based on the inks you have on your press.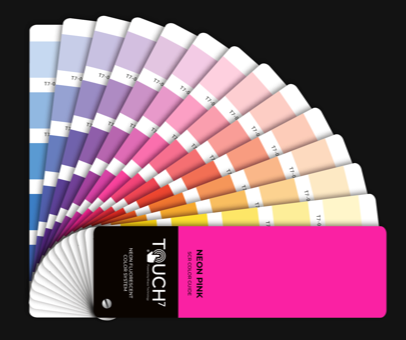 Swatch Books

The Touch7 Neon Color System™ contains ready made templates for outputting swatch books, color charts or shade cards, for printing with either Neon Cyan, Neon Pink (magenta) or Neon Yellow. Download, add your logo and branding and print them out on your press using your own in-house press profile.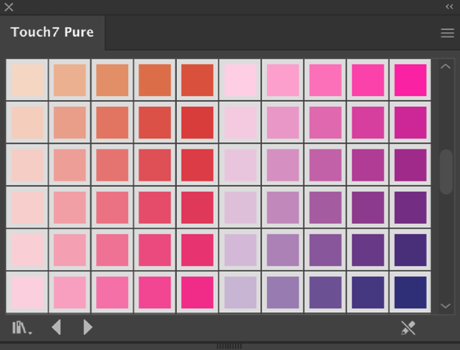 Color Palettes

Automated color palettes for Adobe Illustrator© and InDesign© – Drag and drop your chosen color onto your artwork and it will automatically separate your design into the appropriate color builds. Now you can design with bright neon colors, subtle pastel shades and deep luxurious hues, expanding the gamut of your print.
Plugins

Touch7 Photo is an image separation plugin for Adobe Photoshop that uses proprietary prepress color separation technology based on a mathematical algorithm that will automatically convert your image. Using simple "one-click" buttons, images are prepared for print in seconds, with no image masking required, speeding up your 5th color workflow.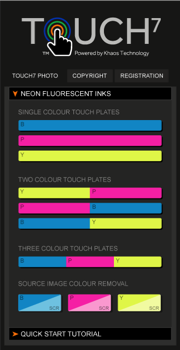 Trial License
We appreciate that people may wish to test the plugin out before making a purchase, so we provide a
trial license
that will work for 7 days. All images separated using the trial license are restricted to a 1200 pixel output size.


Note: We
do not
provide a trial license for the swatch books/color palettes – please look at the tutorial videos to see how the palettes work and what is provided.